Dotson, Thompson are IMCA Harris Clash winners at Deer Creek
Cole Queensland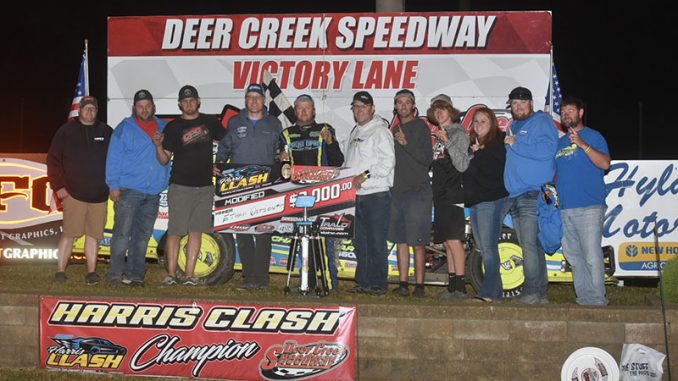 SPRING VALLEY, Minn. (Aug. 4) – Ethan Dotson had raced his way into the record book with his first Harris Clash victory.
He joined a select group of IMCA Modified drivers with his second on Tuesday night at Deer Creek Speedway.
With total entries at a record 155 for the 29th annual Clash, Dotson became just the sixth driver to win one of IMCA's most prestigious events twice, leading all 30 laps and holding off defending race winner Austin Arneson in the process.
"I don't know what else is more fun," said Dotson, chased much of the distance by Jeff Aikey and 2018 Clash winner Cayden Carter. "It was an awesome track and we got lucky starting where we did."
The Californian drew the pole and set a blistering pace over the first half of the race, halted by the first caution on lap 17.
Dotson continued to make the most of the fast higher line in the race to the checkers as Aikey and then Carter ran in second. Arneson had started ninth and moved to the runner-up spot with five to go.
The final caution came with three laps left but Dotson again pulled ahead.
"I was a little worried with Austin behind me," said Dotson, expecting a 'hail Mary slider,' "but I got lucky on the restart."
Twelfth starting Tim Ward, 18th starting Jake O'Neil and Carter completed the top five. Carter topped the $1,000 to win Wehrs Machine and Racing Products Race of Champions earlier in the program.
Dotson had become the youngest driver, at 16, to win the Clash in 2015. The defending IMCA Speedway Motors Super Nationals fueled by Casey's champion and Fast Shafts All-Star Invitational ballot candidate earned $4,000 for his second Clash victory.
Cody Thompson led all but the first of 20 laps in winning the Karl Kustoms Northern SportMod main event and $2,200.
Making just his second Clash start, Thompson was building on a big lead before the first of two back-to-back cautions just after midway.
2019 Clash winner Brayton Carter looked to take the lead away before the next caution came out. Thompson regrouped, got a better second restart and was not challenged again.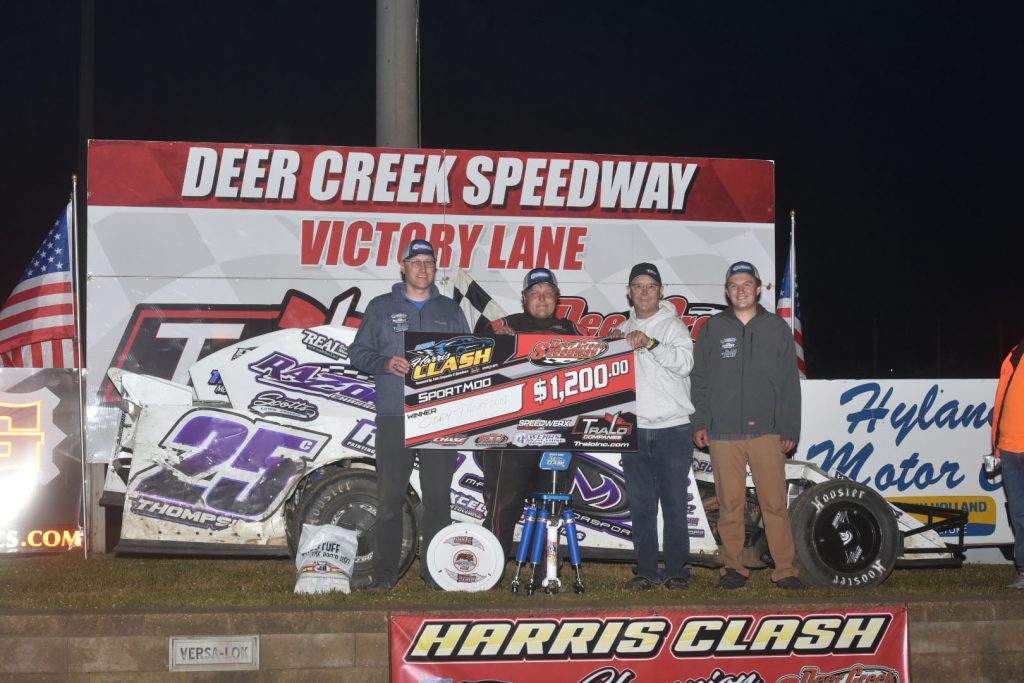 Cody Thompson put a check on his bucket list with an impressive run to the checkers in the Harris Clash main event for Karl Kustoms Northern SportMods. (Photo by Buck Monson)
"This win means a lot to me," he said from victory lane. "I told myself when I got in a SportMod that this was one of the races I wanted to win. It's awesome."
Jake Sachau, Carter, Colby Fett and Jim Horejsi were next across the stripe.
The previous record of 151 entries was set in 2018, the first year the Clash was held at Deer Creek. Promoter Bob Harris announced the Clash would tentatively return to Spring Valley for the 30th annual event on Aug. 3, 2021.
Results
Modified feature – 1. Ethan Dotson, Bakersfield, Calif.; 2. Austin Arneson, Fargo, N.D.; 3. Tim Ward, Chandler, Ariz.; 4. Jake O'Neil, Tucson, Ariz.; 5. Cayden Carter, Oskaloosa, Iowa; 6. Ethan Braaksma, Newton, Iowa; 7. Jeff Aikey, Cedar Falls, Iowa; 8. Joel Rust, Grundy Center, Iowa; 9. Dylan Thornton, Santa Maria, Calif.; 10. Ricky Thornton Jr., Adel, Iowa; 11. Richie Gustin, Gilman, Iowa; 12. Kelly Shryock, Fertile, Iowa; 13. Billy Kendall, Baxter; 14. Toby Patchen, Isanti; 15. Jake McBirnie, Boone, Iowa; 16. Tanner Black, Otis, Kan.; 17. Jesse Rogotzke, Sanborn; 18. Kylie Kath, Claremont; 19. Cody Knecht, Whittemore, Iowa; 20. Cole Anderson, Northfield; 21. Kollin Hibdon, Pahrump, Nev.; 22. Dalton Magers, Redwood Falls; 23. Corey Dripps, Reinbeck, Iowa; 24. Nick Meyer, Whittemore, Iowa; 25. Brad Hartigan, Dickinson, N.D.
Race of Champions – 1. Cayden Carter; 2. Austin Arneson; 3. Richie Gustin; 4. Ethan Dotson; 5. Kelly Shryock; 6. Joel Rust; 7. Jesse Sobbing, Malvern, Iowa; 8. Jake McBirnie; 9. Jared Van Deest, Holland, Iowa; 10. Jacob Murray, Hartford, Iowa; 11. Mark Noble, Blooming Prairie.
Northern SportMod feature – 1. Cody Thompson, Sioux City, Iowa; 2. Jake Sachau, Manning, Iowa; 3. Brayton Carter, Oskaloosa, Iowa; 4. Colby Fett, Algona, Iowa; 5. Jim Horejsi, Marshall; 6. Johnathon Logue, Boone, Iowa; 7. Dylan Van Wyk, Oskaloosa, Iowa; 8. Gabe Zellner, New Franken, Wis.; 9. Lance Borgman, Beatrice, Neb.; 10. Austen Becerra, Carthage, Ill.; 11. Cam Reimers, Ogden, Iowa; 12. Logan Anderson, Oskaloosa, Iowa; 13. Shane Paris, Muscatine, Iowa; 14. Josh Appel, Mason City, Iowa; 15. Tyler Soppe, Sherrill, Iowa; 16. Austin Kaplan, Collins, Iowa; 17. Ben Stockton, Kansas City, Mo.; 18. Jayden Schmidt, Seymour, Wis.; 19. Brian Kauffman, Reinbeck, Iowa; 20. Eric Larson, Madison Lake; 21. Justin Klynsma, Hospers, Iowa; 22. Tyler Watts, Beloit, Kan.; 23. Chad Shaw, Trimble, Mo.; 24. Joe Docekal, Dysart, Iowa.